NFL Player Engagement Teams with White House
To Enter National Dialogue on Mental Health
June 1, 2013
Engagement Report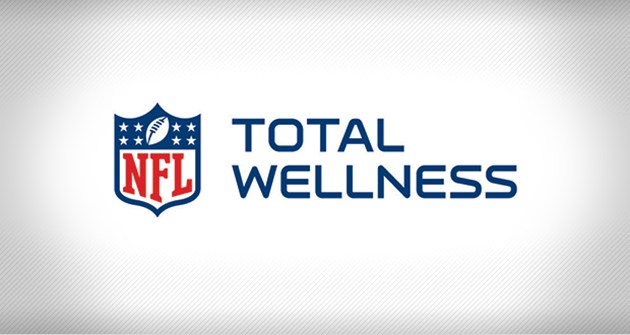 WASHINGTON, DC June 1, 2013 – NFL Player Engagement (NFLPE) will be at the White House this Monday to team up with the President, Vice President and other luminaries to launch a national awareness program on mental health.
Called the National Conference on Mental Health, the meeting will include experts from across America such as mental health advocates, educators, health care providers, faith leaders and those who have faced mental health problems.
Representing the NFL will be Player Engagement Senior Vice President Troy Vincent, who said,
"We are truly honored to join this national effort to focus on the timely topic of mental health, which we have long prioritized under our Total Wellness initiative to provide proper programs for our players and their families."
"The National Football League will strongly support this national dialogue on mental health through a multidimensional commitment," observed Vincent. "Our effort will include ensuring that NFL players attend community conversations being planned in cities across the nation, especially former players trained in responding to mental health issues. In fact, as part of our national and local outreach support, our Player Engagement department will co-brand its work with the National Dialogue on Mental Health, which will include linking through social media and releasing videos about mental health."
This co-branding should prove a perfect fit with the Department of Health and Human Services (DHSS) emphasis on early intervention, which targets the needs and issues of 16-to-24 year-olds.
The objective in kicking off this national conversation is to discuss how all Americans can come together in helping the millions of their fellow citizens struggling with mental health problems, while reducing the stigma and increasing requests for help.
"Those who need help are too often afraid to seek it because of the shame and secrecy associated with mental illness," according to White House organizers of the event, who anticipate the event will serve as a springboard to increase the understanding and awareness of this topic nationwide.
Additionally, NFLPE will bring to bear its background in areas already associated with mental illness, where it was recently honored by the American Foundation for Suicide Prevention (AFSP) with their Humanitarian Award.
"We were recognized for our work with leading suicide prevention organizations, including AFSP, to launch the NFL Life Line, a website and crisis hotline number as a resource for former and current players, their family members, and all league and team employees," explained Vincent. "The website includes an anonymous and confidential self-check quiz and online chat that allows individuals to interact with trained professionals. The website also lists important information about depression, suicide warning signs and features videos from former players encouraging those in distress to 'make the call' for help."
But the website is just one of many areas in the NFLPE's ongoing Total Wellness 'Q5' player assistance services (www.nflplayerengagement.com), which also includes free confidential counseling, personal or emotional crisis support, and enhanced counseling benefits. Its purpose it to provide education and resources to players and their families about how to develop and maintain holistic health--healthy minds, bodies, and relationships -- that ensure players feel a greater sense of respect, self worth and dignity.
Additionally, NFLPE has trained up and deployed former players as Transition Coaches to create relationships and recognize early signs of mental health issues at the club level, and encouraging players and their family members toward responsibility and accountability in taking advantage of these services and offerings.
All these NFL programs already in place will ultimately be one of many useful resources in the national program, which will debut the DHSS website www.MentalHealth.gov on Monday to continue the conversation begun at the National Conference on Mental Health. With the mandate of "Let's Talk About It," the website will provide mental health information and resources for individuals struggling with mental health problems, friends and family members, educators, and other community members. Specifically, the site will feature information regarding the basic signs of mental health problems, how to talk about mental health, and ways to find help.
"With our past and present emphasis on mental health at the NFL, we are proud to collaborate with this Administration at the community level to assist in bringing education, prevention and our best practices to the national dialogue on mental health," stated Vincent in closing.
---
John Ingoldsby writes about NFL Player Engagement
in Bloomberg Businessweek Special Advertising Section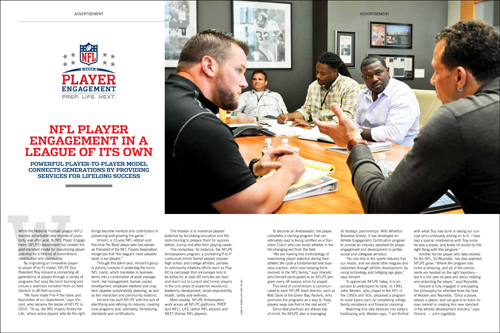 ---
John Ingoldsby Featured
in College Alumni Magazine
Fall 2012
St. Francis Magazine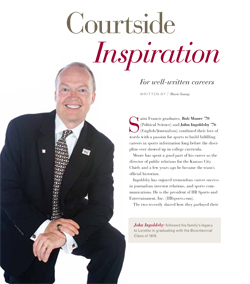 ---
49ers Owner Greets Military Before Patriots Game
December 17, 2012
Armchair General Magazine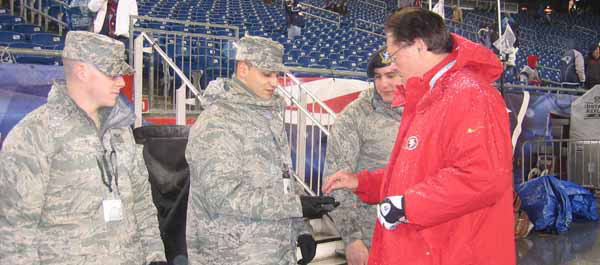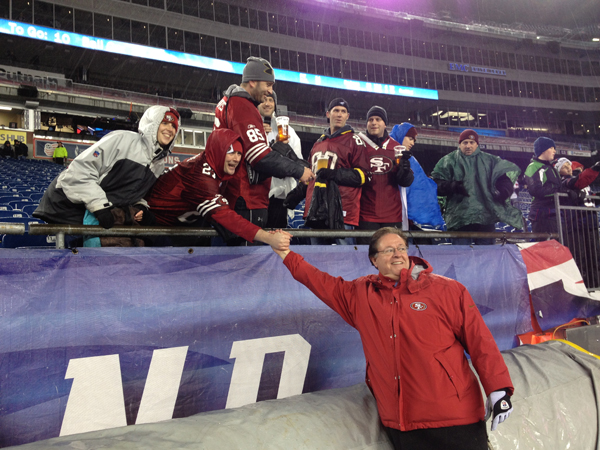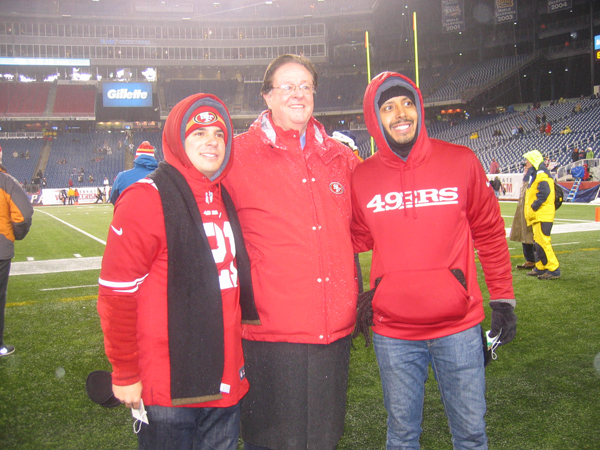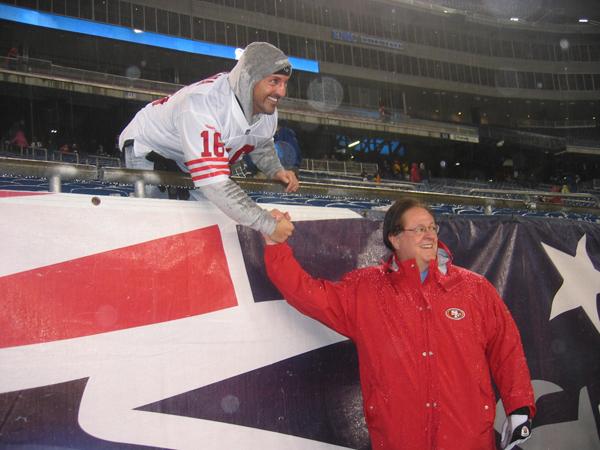 Neither snow nor rain keeps 49ers Owner from finding fans
---
NFL & Army teaming up to tackle Traumatic Brain Injuries
September 7, 2012
Armchair General Magazine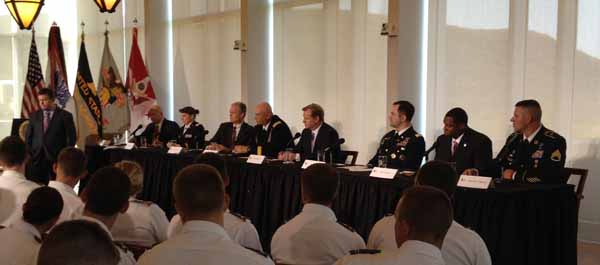 WEST POINT, NY, Sept. 7, 2012 – The National Football League and the U.S. Army have shared a storied history of working together, and now have formed perhaps their most important alliance ever in teaming up to tackle Traumatic Brain Injuries (TBI).
The two iconic institutions chose the hallowed grounds of the United State Military Academy at West Point for the announcement, which included a panel discussion on this timely topic before an audience that included 200 Cadets.
The event was kicked off by Army Chief of Staff General Raymond T. Odierno and NFL Commissioner Roger Goodell, who both stressed the complete collaboration they envision to implement a culture change to reduce brain injuries, including most importantly concussions.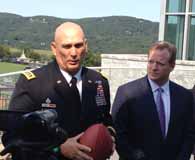 By emphasizing the importance of shared responsibility, self-regulation and peer pressure in battling this issue, the General and the Commissioner spearheaded a candid conversation by a star-studded panel that advocates players and soldiers seek help for a head injury to either themselves or those around them.
This call for healthy behaviors was echoed by the panel that included former players Troy Vincent and Bart Oates, Neurologist Dr. Richard Ellenbogen, a Co-Chair of the NFL's Head, Neck & Spine Committee, and Major Sarah Goldman, Major Christopher Molino, and Staff Sergeant Shawn Hibbard, all of whom contributed their perspective from the trenches.
In launching this initiative, both organizations created the websites www.NFL.com/military and www.army.mil/tbi, while also pledging to hold forums at NFL team facilities and Army bases, increasing awareness through PSAs and social media, pairing retired players with soldiers transitioning out of the Army, and sharing medical research and information.
John Ingoldsby, a leading writer on the intersection of sports and the military who attended this event, is president of IIR Sports, Inc. (www.IIRsports.com) in Boston, a media & public relations firm. As a former newspaper reporter covering Fort Devens, he was the first New England media representative ever chosen by the Pentagon to cover NATO war games in Europe. His father was a Lieutenant Colonel in General Patton's legendary Third Army during World War II.
---
IIR Sports conducts PR & Media activities at U.S. Army All-American Bowl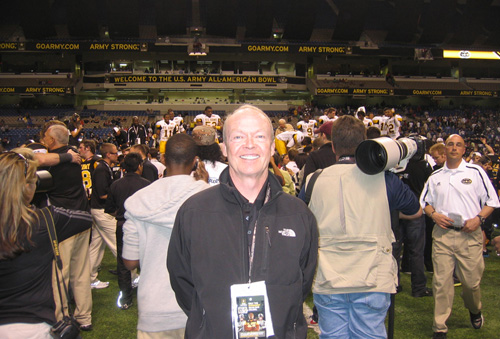 ---
John Ingoldsby Covers 2012 & 2011 Deutsche Bank Championships

---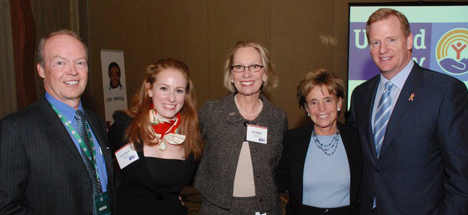 The sport with a game-plan for tackling the recession
As the NFL prepares to play its third regular season game in the UK, John Ingoldsby
reports on American football's moves to expand its fan base and revenues.
October 22, 2009
The Financial Times
At last week's National Football League owners meeting in Boston, one of the regular gatherings of the high-powered executives who run the league and its 32 teams, the agenda included adding games to the schedule, whether to include sponsors' logos on practice kit and plans for a new collective bargaining agreement with players.
But underlying all this, the mood was bullish. One of the biggest businesses in sport, announced Roger Goodell, league commissioner, was bucking the economic recession.
"We started the session this morning as we traditionally do with a report on the status of the season, and we had a very upbeat report, not only on the quality of the games but also with fan engagement," he says.
Ratings for all four of the networks that televise NFL games – CBS, NBC, Fox and ESPN – have increased from last year, and the viewership records have been set in three of this season's first five weeks, with the most watched Sunday night game ever on September 20 between the New York Giants and Dallas Cowboys on NBC.
The league has also in the past few months showed it is surviving a weak sponsorship market by signing a new deal with Proctor & Gamble, while renewing long-standing agreements with Visa and IBM.
But as the New England Patriots and Tampa Bay Buccaneers get set to play each other at London's Wembley Stadium on Sunday, the third regular season game to be played there in as many years, Mr Goodell appears convinced that the health of the sport will benefit from global expansion.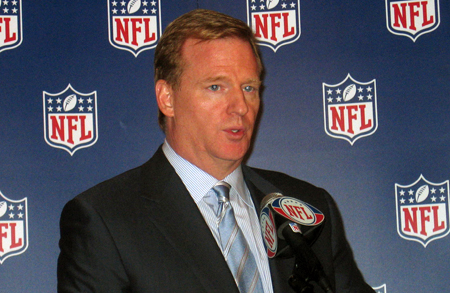 "The progress we are making internationally, in particular our efforts in the UK, show that the fans have really responded," he says. "The fans in the UK look like they could have a second game, and we are looking as early as next year. It could be Wembley, or it could also be some place else in the UK, and we have talked about other spots in Europe also."
Steve Tisch, owner of the New York Giants, a team that played in the inaugural London game two years ago, is an enthusiastic supporter of the commissioner's strategy. "The way Roger has set it up with the London games is a great start, and the experiences over there have been terrific."
For a domestic league with revenues of $8bn (€5.3bn, £4.8bn) that culminates in the Super Bowl, one of the marketing world's marquee events – in the midst of the global recession, 30-second ads for last February's game cost an average of $3m, up from $2.7m the year before – it is perhaps a surprising strategy.
What is more, previous efforts to expand the sport abroad have been unsuccessful. NFL Europa, a Europe-based branch of the league which included teams in Germany and the Netherlands, closed in 2007, and the NFL turned instead to the current strategy of playing regular season games outside the US.
Still, Mr Goodell points to the more than 140m NFL fans outside the US and 120 broadcasters from 230 countries and territories that will carry NFL programming in 2009 as evidence of its continuing global appeal.
But he also recognises that "we are not played as broadly as some other sports, particularly soccer and basketball, but when people have the opportunity to see our game and be engaged, they love it and want more of it".
In this respect, the National Basketball Association, another North American league that has pursued an international strategy in recent years, has been more successful. The sport is well established in Europe and, perhaps more significantly for the long term, in China. Last year, the league formed NBA China, an organisation designed to conduct all its operations there and it claims that NBA.com/china, its local website, is the single most popular sports website in the country.
For the time being, the NFL remains focused on expanding the business in Europe, but for the fans set to turn the home of English football into a home for its American version, the only numbers that count will be on the scoreboard.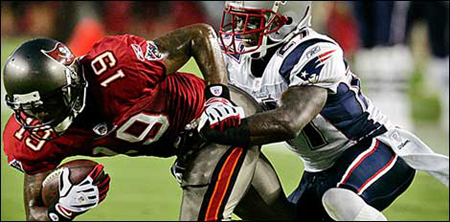 Copyright The Financial Times Limited 2009.
---
NFL Commissioner Roger Goodell takes global view after climbing corporate ladder to reach mountaintop
BOSTON, Massachusetts – NFL Commissioner Roger Goodell has reached the mountaintop both literally and figuratively, and his view from the top is surely spectacular.
Professionally, after a 24-year career climbing the corporate ladder at the National Football League, Goodell reached the peak of his profession when he was elected Commissioner four years ago.
Personally, he trained rigorously to successfully scale the 14,411-foot summit of Mount Rainier 15 months ago as part of a group supporting United Way, an NFL partner for more than 35 years.
With the mountains behind him, the 51-year-old Commissioner is now crisscrossing the ocean with the "great American game of Football," and London has become the league's new world—one apparently worthy of further exploration.

---
Q&A with NFL CMO Mark Waller
In October, 2009, during the NFL's Fall Meeting in Boston just two weeks before the NFL's International Game in London, Boston-based writer John Ingoldsby sat down with Mark Waller, the National Football League's new and first-ever Chief Marketing Officer, for an exclusive interview.

---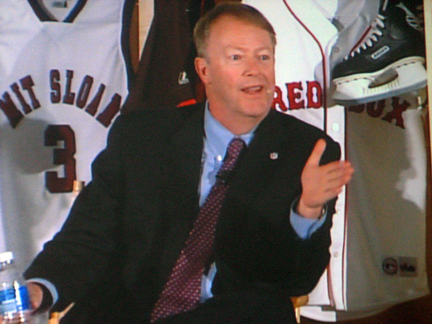 NFL CMO Mark Waller Goes Global at MIT Conference
BOSTON, MA—The National Football League has already taken its game across the pond, and is now intending to "accelerate massively the education" aspect of American football worldwide.
This revelation, and many other components of the NFL's commitment to growing its game globally, were put forth by NFL Chief Marketing Officer (CMO) Mark Waller during the Massachusetts Institute of Technology (MIT) Sloan Sports Analytics Conference in Boston in March 2010.

---
From intern to dream job: NFL Commissioner Roger Goodell
June 1, 2010
LOWELL, Mass. – College graduates take note.
An internship can lead to arguably the greatest job in the world. Literally!
For it was an internship that was the first step undertaken by Roger Goodell nearly three decades ago that ultimately led to his current job as Commissioner of the National Football League (NFL).
6 Tubwreck Drive Medfield, Massachusetts 02052
Phone: 508-359-2280 Cell: 617-513-7177 Fax: 508-359-4529 IIR@comcast.net