NFL CMO Mark Waller Goes Global at MIT Conference
By John Ingoldsby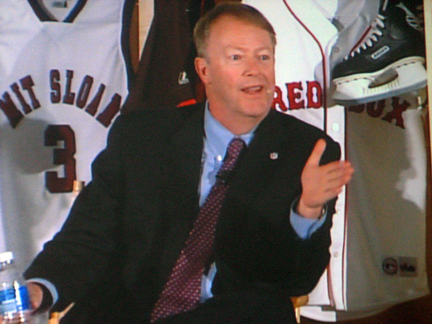 BOSTON, MA – The National Football League has already taken its game across the pond, and is now intending to "accelerate massively the education" aspect of American football worldwide.
This revelation, and many other components of the NFL's commitment to growing its game globally, were put forth by NFL Chief Marketing Officer (CMO) Mark Waller during the Massachusetts Institute of Technology (MIT) Sloan Sports Analytics Conference in Boston in March 2010.
Waller spoke as part of a panel entitled International Expansion, where he was joined by Sunil Gulati, President of the U.S. Soccer Federation & Kraft Soccer; David Baxter, president of Sports Licensed Division of adidas; Maurizio Gherardini, senior vice president of Basketball Operations for the Toronto Raptors; and Panel Moderator Jessica Gelman, director of New Business Development and Operational Initiatives for The Kraft Sports Group, and one of the conference organizers.
Speaking before a few hundred attendees as part of the packed conference populated by sports executives and students, Waller detailed how the NFL is well into initiatives to use social media, including digital media and online video gaming, to achieve its goal of educating people worldwide so they understand the NFL game and want to watch.
"Even the best American announcers, like Troy Aikman and John Madden, use sophisticated terminology to describe this complicated game," said Waller, adding that we "are stressing the use of basic terms like soccer. In fact, during our games in London we have explained rules to the fans during the game."
Waller acknowledged that the NFL faces three challenges in integrating its game into foreign cultures.
"Our challenges are to meet our own expectations to replicate our success in the United States, to overcome the fact that ours may be the only game so closely tied to the country that it is referred to as American Football, and most importantly, to recognize that very few players come from outside the U.S. to play this difficult-to-understand game."
The NFL's first-ever CMO, whose international upbringing included attending school in the United Kingdom, also referenced the difference in both spectators habits and fiscal approach.
Citing the example of NFL Commissioner Roger Goodell attending a Premier League soccer game while in London, Waller said the Commissioner asked one of the soccer team executives about visiting the Team Store during the game, and was told that the store was closed during play since the EPL wants fans watching the whole game.
This of course is in stark contrast to revenue generated during play here in America, when fans typically mill around during a game buying everything from souvenirs to hot dogs.
Panelist Gulati was quick to chime in that this example may show why the Premier League may not have the NFL's strong balance sheet, while Gherardini (the first European to hold a senior management position with an NFL franchise) added that while play is on during a game in Europe, "fans can't move for fear of other fans jumping on them. It's like church!"
Panelist Baxter added his perspective, noting that sales of NFL apparel is good internationally since fans love to "touch Americana." He added that, "The NFL game can indeed be hard to understand, so building the NFL brand can be a difficult proposition and is a long process."
Baxter added, however, that people have a good time at the game each year in London, and fans there want more. "The morning of the game in London is like American Day, with people wearing the jerseys of ALL the NFL teams, like the Hall of Fame."
Waller verified this reference as to how popular the three NFL games in London have been, saying that "our UK fan base has quadrupled in four years." With hundreds of NFL games broadcast on TV each year in the UK serving as a foundation, Waller said that the days of losing money in international leagues, like NFL Europe, are over and that the NFL is now making "significant profit" with its international strategy.
With the next game at Wembley Stadium scheduled for October 31 between the San Francisco 49ers and Denver Broncos, Waller did not have to mask the fact that "we believe we have the best sports product in the world, which we deliver in the UK each year with a regular season game, and we now have the fan passion and economic model that pays back."
But Waller clearly recognizes that the NFL international strategy is an "unbelievable long-term proposition since going global for anything takes time." He hammered home his point with the example that "it took a while for Pepsi and Coke to change the simple statement of 'I want a drink' to mean them, versus the NFL adding a new sport and/or sports team to a fan already satisfied with the sports teams they follow."
Waller also specified that it can and will be done, and that local allegiances that were once the hallmark of sports everywhere, have changed. "Chelsea soccer used to have players from London that created a huge local following, but now there may be no players from London on the team, but their fan base is bigger."
Gulati concurred, adding that "it is relatively easy to get people to sample a product, like the NFL London game, or just last Sunday when 35 million watched the U.S.-Canada Olympic hockey game. But trying to change consumer habits can take 100 years. There is one word – patience."
But at the end of the day, Waller believes that the true measuring stick will be how to define success.
"It is difficult getting to the core metrics of what is success?" he stated. "Is success more international players or more international fans attending or watching games? We believe that one of the best ways to achieve 'success' is to grow the global fan base, and a key driver is digital consumption by fans wanting NFL scores, stories, etc."
To continue and accelerate its growth, Waller said the NFL is targeting both the fastest growing markets in countries like Brazil, Russia, India and China, while also continuing to grow in mature markets like Canada, Mexico, and of course, Europe.
"We now have the Buffalo Bills playing games in Toronto, which has been a huge success, so we consider Canada a huge marketplace," Waller noted.
But, the reality is that Waller and the NFL consider the whole world their marketplace as they look out on the horizon.
"Thirty years ago, it would have been inconceivable that, for instance, Manchester United versus Barcelona in Rome would be the top game on the yearly soccer calendar. So, it's easy for us to see a day in 30 years when, say, the New York Giants are playing a team based in Sydney or Moscow, or we play a game at a different time to be televised live in China to draw the largest audience."
In short, Waller added, "It's a global world now with no geographic boundaries."
John Ingoldsby, who has covered the NFL for decades, is a member of the Pro Football Writers of America and the National Sportscaster & Sportswriter Assn.