Chris Hogan Was a Lacrosse Player at Penn State prior to his time in the NFL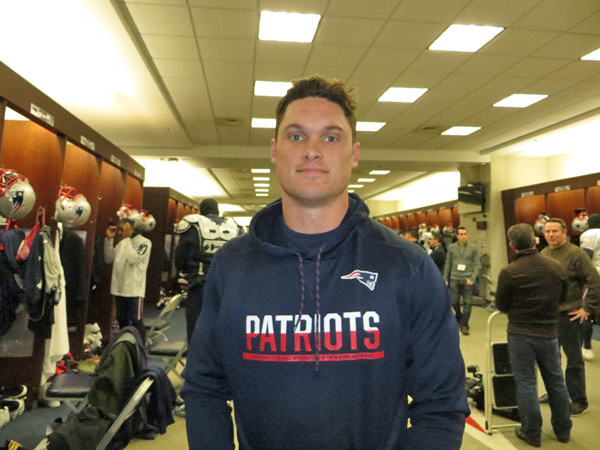 When Chris Hogan hauled in Tom Brady's 79-yard touchdown pass in one of this NFL season's signature plays, he ran right down the middle in the straightest route you'll ever see.
But his path to the NFL was nowhere near as direct.
Because long before he burst into America's football consciousness with his stunning sprint to put away the Patriots win over Baltimore, he was on scholarship at Penn State -- not for football, but instead lacrosse.
"I have done a lot of different things, and lacrosse and football were my two main sports in high school, so it was a tough decision to choose but I really enjoyed my time at Penn State and it turned out pretty good," said the New Jersey two-sport all-state star.
But becoming a Nittany Lion after being recruited to play lacrosse by traditional powers like Syracuse and Maryland was just the start of Hogan's circuitous journey to the NFL and Monday Night Football immortality.
"I injured my ankle at Penn State and redshirted, so I still had a year of eligibility left and was pretty much done with lacrosse, so after graduation I got it in my head to play football again," recalled the 6'1" 220-pound speedster with a PSU communications degree.
So he contacted his Ramapo High School coach, who reached out to colleges, and just like that the Jersey boy was headed back home.
"Monmouth University just an hour from where I grew up worked well with my situation in regards to NCAA regulations and such, so I ended up going there for my fifth year," stated Hogan while talking in the Patriots locker room just a few days after his big night.
This monumental decision would work out well indeed.
"At Monmouth, I got to play in all three phases of offense, defense and special teams, which was a lot of fun for me, and it was great to play football again," remembered Hogan, who caught three touchdowns as a receiver and had three interceptions as a cornerback, while also starting his Master's degree in political science.
But little did he know that this roundabout route was about to take another turn, this time headed to the NFL.
"Some of my Monmouth teammates were trying out for the NFL, so I ended up getting in some camps and was picked up by the San Francisco 49ers in 2011," said Hogan.
This kicked off a gridiron career that included stints with the New York Giants and Miami Dolphins, before landing with the Buffalo Bills in 2012, where he played in every game during his three full seasons there, having perhaps his best game while facing the Patriots on MNF in 2015.
And just like when Miami's Wes Welker played big against the Patriots and ended up signing a guaranteed three-year contract with them, Hogan's Buffalo performance on another Monday night caught the eye of Coach Bill Belichick.
Next thing you know, New England signed him last spring, and his steady play has led right into this happiest of holiday seasons.
"I love it here and it's a great place to be, so I have been enjoying my time being part of this team," exclaimed Hogan.
A team headed yet again to the postseason and whose high profile helped make him a household name with one transcendent touchdown.
So instantly recognizable in fact that fellow Jersey-ite Phil Simms led off his Inside the NFL comments the night after the game by recalling Hogan's epic performance in a New Jersey high school football state championship game and also his decision to choose lacrosse.
And even though two days later the humble Hogan was unaware of Simms' praise, they struck home.
"I grew up together with his kids and used to catch for them, and Chris played quarterback at Ramapo High School where I went and Matt played QB at Dom Bosco Prep," reminisced Hogan, fully remembering his roots that took him down his long and winding road to fame and fortune in the NFL.
---
---