Saints were deciding on Bell until final hours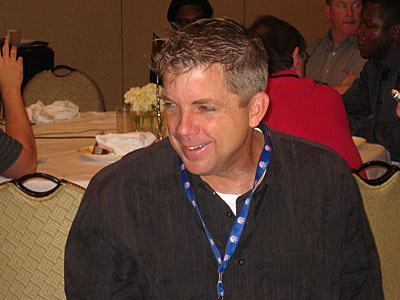 March 24, 2010
The many twists and turns in the Eagles' acquisition of restricted free agent running back Mike Bell finally ended last night shortly before the midnight deadline for the Saints to decide whether to match the Eagles' offer sheet.
Saints coach Sean Payton said this morning at the NFC coaches breakfast at the NFL owners meetings that Saints' brass was still discussing what to do at 8 o'clock last night.
"It's tough, and we were still discussing at 8 last night, but overall we looked at organization and this puzzle is bigger than just one part, which makes it hard," Payton told Daily News contributor John Ingoldsby.
The Saints were never considered likely to match, given that they have plenty of running-back depth, and a bunch of restricted free agents to sign and pay, and they tendered Bell at the lowest level. If they wanted to pay Bell the $1.7 million or so he stands to make from the Eagles this coming season, the Saints could have just tendered him at the second-round level.
Still, Payton said, it was not easy to part with Bell.
"It's always a difficult decision with a player who meant so much the year before. [General manager Mickey Loomis] and I spent a lot of time on that decision," Payton said. "One of challenges of free agency -- Philadelphia is getting a real good football player -- is you begin to deal with your own economics and dollars. When Mike came to New Orleans we were able to get a young talented back that helped us in a lot of ways."
Bell adds an interesting piece to the Eagles' offensive puzzle. He appears to give them inside thrust they haven't had since Duce Staley left following the 2003 season. But Staley was able to be effective because he fit Reid's system. He was an excellent pass receiver, though he made it clear he would rather carry the ball than catch it. Bell showed good hands his rookie year with Denver, when he caught 20 passes for 158 yards, but Bell was almost never on the field in the passing game over the ensuing three seasons, catching a total of six passes for 33 yards.
Bell ran for 654 yards last season on 172 carries with five touchdowns in 13 games.
His agent, Josh Luchs, said the move to Philadelphia will be "bittersweet."
"He has a lot of gratitude for the opportunity they gave him," Luchs told the New Orleans Times-Picayune. "And he has a love affair with the fans there. But he has such a small window to capitalize on the window of opportunity to take his career that was resuscitated by the Saints to another level."
Article taken from PHILADELPHIA DAILY NEWS