Football's famous warriors find fitting home in Patriot Place
ARMCHAIR GENERAL MAGAZINE (WWW.ARMCHAIRGENERAL.COM)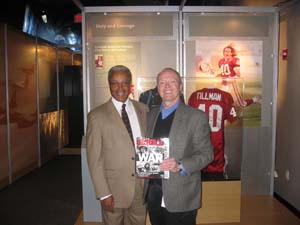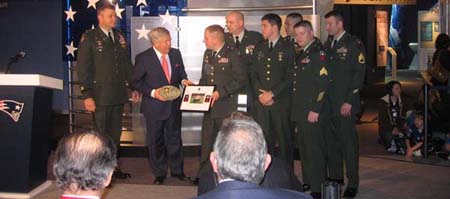 By JOHN INGOLDSBY
March 1, 2010
FOXBORO, Mass. – The New England Patriots lived up to their name — and then some – on Saturday when they became the first home away from home for a tribute to football's noblest warriors.
Before a star-spangled standing-room-only crowd, the Hall at Patriot Place presented by Raytheon proudly became the new custodian of a traveling exhibit entitled "Pro Football and the American Spirit," which until now could only be seen at the Pro Football Hall of Fame in Canton, Ohio.
In honoring the hundreds of pro football players who have served in America's armed forces during times of war, the stirring collection covers the past 70 years and features an array of awe-inspiring artifacts, from Pat Tillman's Army Ranger uniform and Rocky Bleier's Purple Heart back through Jack Kemp's Buffalo Bills jersey and Lou Groza's helmet and cleats.
Complemented with video and verbiage, the historical displays help transport both the football fan and military historian on a journey that starts with World War II and the likes of legendary Chuck Bednarik joining the Army Air Corp after Pearl Harbor right through recent visits with troops abroad by Commissioner Roger Goodell and Super Bowl Quarterback Drew Brees.

Along the way, visitors receive new meaning for the term "America's Team," when they see the story of Roger Staubach winning the Heisman Trophy at Navy and choosing to go to Vietnam first before going to the Dallas Cowboys, or Air Force Graduate Chad Hennings flying the flag (also on exhibit) as the pilot of 45 missions during Desert Storm, prior to winning three Super Bowls with the 'Boys.
Although most achieved glory for their gridiron exploits on Sunday afternoons across America, these famous footballers gained true honor fighting with gallantry in foreign lands.
When four-time Pro-Bowl Quarterback Eddie LeBaron used his diminutive 5'7" frame to avoid a fearsome and decidedly larger NFL rusher, it surely could not compare with when he left cover under heavy fire to contact a forward mortar platoon within enemy sight, or the time when he took command of an assaulting rifle platoon that had lost its leader, and kept the attack going. For these efforts in the Korean War, the 11-year NFL veteran received the Bronze Star, and earned forever the moniker "The Littlest General."
Or when Tom Landry consistently displayed his uncanny calm coaching the Dallas Cowboys, it probably paled in comparison to the 30 missions he co-piloted over Europe in WWII, one of which ended with a crash in Belgium after a bombing raid over Czechoslovakia.
These shining examples of valor demonstrated by football's finest highlight a history of heroism on display that includes three Congressional Medal of Honor (the nation's highest military honor) winners, a Bataan Death March survivor, and two players (Don Steinbrunner and Bob Kalsu) who died while serving in Vietnam.
The exhibit also pays homage to leadership, that unique quality that is desired above all others by both the military and in football. Marine Colonel Ralph Heywood started his career aboard the USS Iowa in the Pacific in WWII, then played pro football for four years, and later served with distinction in both the Korean and Vietnam Wars, becoming the only former NFL player to be in all three wars.
Heywood's medal-laden career was certainly not the only brass produced by the NFL, which also has a General in its ranks. Like Heywood, General Ernest C. Cheatham began in the military, followed by football with the Pittsburgh Steelers and Baltimore Colts, before embarking on a career that took him to the pinnacle of Marine Corps leadership, and his collection of medals are part of the display.
There are even owners of today's NFL franchises that served, including Tom Benson of the World Champion New Orleans Saints, Bud Adams of the Tennessee Titans, Alex Spanos of the San Diego Chargers, Art Modell of the Baltimore Ravens, and Ralph Wilson of the Bills.
They undoubtedly have helped keep the NFL commitment to the military burning brightly with fellow owners, as shown on Saturday by Robert Kraft, the powerful Patriots owner, who as Chairman and CEO of The Kraft Group graciously acted as host for the day's festivities.
"This day is very meaningful to myself and my family," stated Kraft following the ceremony. "We have strong ties to the armed services and the military, who I have always felt are underappreciated, so for us it is an honor to partner with Raytheon to have this museum where we can not only create our Patriot history, but link in as much as we can to the armed services. Both Raytheon and ourselves feel very strongly for how lucky we are that our whole way of life rests with the strength of our military."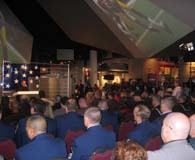 This pledge of patriotism is not new to the owner of the Patriots, who are believed to be the first sports team ever to follow up their championship visit to the White House with a tribute to the troops.
"We were honored to go to Walter Reed from the White House after Super Bowl XXXVI," Kraft said, "where we were told we were the first team ever to do that, and now the teams do that every year."
That was the Super Bowl just a few months after 9/11, which is also part of the exhibit in memorializing the NFL's role in honoring the thousands of fallen Americans, when the Patriots used a true team concept to upset the St. Louis Rams and, as Kraft eloquently stated, "represent how the whole country came together during that time,"
Stephen Perry, President/Executive Director of the Pro Football Hall of Fame, also recognized the symmetry of choosing the Patriots to become the first host for the traveling exhibit.
"It is fitting that the very first of our traveling exhibits is placed here in Massachusetts, given its history in our country's independence," said Perry. "We are also certainly honored that among the many New England Patriots who served our country, we have a few of them here today (Gino Cappelletti, Tom Yewcic, and Butch Mahoney)."
Perry continued, "Hopefully, lots of people in this part of the country will have an opportunity to come to Patriot Place and see this exhibit while it is here for the next three months. When it leaves here, it will travel over the rest of the country, going to Kansas City and then off to San Diego, as well as other places, but we are delighted that it is being launched here."
Ironically, the launch and exhibit are housed in The Hall at Patriot Place presented by Raytheon, one of America's most vital defense firms. Bob Filosa, the organization's Director of Program Management, spoke to his company's commitment by noting, "Our 75,000 employees are focused and dedicated to our men and women in uniform. That is what we do every day. To participate in this exhibit honoring football players who have served is a great honor for us."
The star-studded day also included former Patriot and Hall of Famer Andre Tippett, as well as Joe Andruzzi, the former Patriot lineman who led the Patriots onto the field waving a small American Flag in each hand in the first game after 9/11, accompanied by his three brothers who were on the front lines as New York City firemen that fateful day.
Bryan Morry, the Executive Director of the Patriots Hall, also presented representatives from the four branches of the military, including 2-310 Regiment 174th Infantry Brigade, 1st Battalion 25th Marines, the USS Constitution, 104th Fighter Wing, Massachusetts Air National Guard, and veterans from The Wounded Warrior Project.
Each organization then left their own legacy by presenting an item for the exhibit to Kraft and Morry, lending a decided New England military flavor to an already awesome display of Patriots' patriotism.
John Ingoldsby, a leading writer on the intersection of sports and the military, covered this event for Armchair General. He is president of IIR Sports & Entertainment, Inc. (www.IIRsports.com) in Boston, a public relations and writing firm. As a former newspaper reporter covering Fort Devens (Massachusetts), he was the first New England media representative ever chosen by the Pentagon to cover NATO war games in Europe.
Article taken from Armchair General Magazine - We Put YOU in Command! - http://www.armchairgeneral.com
Copyright © 2008 Armchair General Magazine. All rights reserved.